Jacqueline has been producing exquisite chocolate products Since launching La fleur de chocolat in 2014
Jacqueline Has Over 20 Years Of Experience As A Pastry Chef Both In The UK And Europe. She Has Won Numerous Awards Herself And Worked At Both Michelin Star And Three Rosette Award-Winning Restaurants. Needless To Say, Jacqueline Is Extremely Talented And Her Passion Is Very Evident In Her Exquisite Hand-Crafted Products. Read On To Learn More About Jacqueline's Life And Career That Led To The Birth Of La Fleur De Chocolat.
Thank you for visiting La Fleur de Chocolat. Here is a little history of my life… I was born on the 8th May 1980 in Ayrshire Scotland and moved to Hereford when I was four years old. It sounds a little cliché, but ever since I can remember I wanted to be a pastry chef. As a child I would bake cakes and biscuits, experimenting with different flavours. I enjoyed cooking all sorts of things and still do, but patisserie and chocolate are where my passion, knowledge and happiness lives.
After I finished school I went to Hereford Catering College followed by Cheltenham Catering College. Throughout these years in further-education, I worked part-time in fine-dining restaurants. During my time at Hereford Catering College, I did stints in France and also a month at Nadell Patisserie in London.
I got my first full-time pastry chef job in 1998 in a Two Rosette award-winning hotel in the Cotswolds. It wasn't long before I was putting my own ideas on the dessert menu!
Starting La Fleur de Chocolat was the best decision I've ever made it's the most challenging and hardest things I've done, but I love it, I have never been so happy! I've met a lot of great fellow small business owners and wonderful customers.​
Afterwards, I took a job as Head Pastry Chef in a fine-dining Three Rosette award-winning for a few years. My burning desire to expand my knowledge and skills lead me to enrol on some specialist courses. The first one in Munich Germany was a Contemporary Dessert Art Course by Pastry Chef Robert Oppeneder. When I arrived, the ground was covered in a blanket of snow and it was freezing cold! I walked to a little patisserie to warm up, I couldn't speak any German and so I didn't know how to ask for anything… A kind woman behind the counter took me to sit at a table and brought me hot chocolate and a slice of cake, she seemed to knew exactly what I would like! It was a great start to the trip. The course was very interesting, I was taught a wide range of different techniques which have been put to use in my career.
The second one was in Tain-l'Hermitage near Lyon France, it was at Valrhona, home to some of the best chocolate in the world. As well as the Valrhona factory they had a chocolate school taught by top Pastry Chefs. The Pastry Chefs work with Valrhona chocolate, working out the best techniques for chocolates, chocolate desserts also working with praline. This course changed the way I worked with chocolate. For example, we learnt how to make an emulsion with chocolate which gives it a deliciously smooth texture. I always had such great enthusiasm for chocolate, but after doing these courses, my passion and knowledge grew even more! I didn't know it then, but it helped set me in the right direction to starting La Fleur de Chocolat.
I then started working as a pastry chef at the Michelin Restaurant Simpsons in Birmingham, I worked there for 8 years and quickly became Head Pastry Chef. Whilst I was at Simpsons I ran a few Chocolate Workshops in the Cookery School. I also did a few stages in France and London, including a month at Bernachon a famous Chocolate Shop and Patisserie in Lyon. I also did 2 weeks in a chocolate shop in Chantilly France. I entered two team competitions La Parade Des Chefs at Hotelympia, where we won Gold both times. I spent my holidays going to France to do research on Chocolate and Patisserie to further my knowledge and keep my passion alive!
I left Simpsons to pursue my dream of a Patisserie and Chocolate Shop, I decided to just go for it! I would rather do it and fail than not do it at all. I looked into getting a shop, but I had a small budget to get started and just couldn't afford it. I didn't give up, I found a kitchen unit in Herefordshire where I started selling online, wholesale and at food festivals. La Fleur de Chocolat has been going from strength to strength, gaining recognition nationwide.
In January 2019 I went back to Simpsons for a day to do a "The Girls are Back" event with past and present female chefs. It was a huge success, a lot of fun and great to do a Plated Dessert again. All the female chefs did a course it was great to showcase the talent of female chefs. They have also started using my Chocolates and Caramels for Petti Fours!
La Fleur de Chocolat was launched on 13 June 2014 and I have since won many Great Taste Awards as well as LUX Chocolatier of the year. Every day I'm pushing to grow the business to see my dream come true. I know that one day I'll open my own shop!
Here are some of my favourites...
Mango coconut and lime (I love the zesty sharpness of the lime against the sweetness of the mango).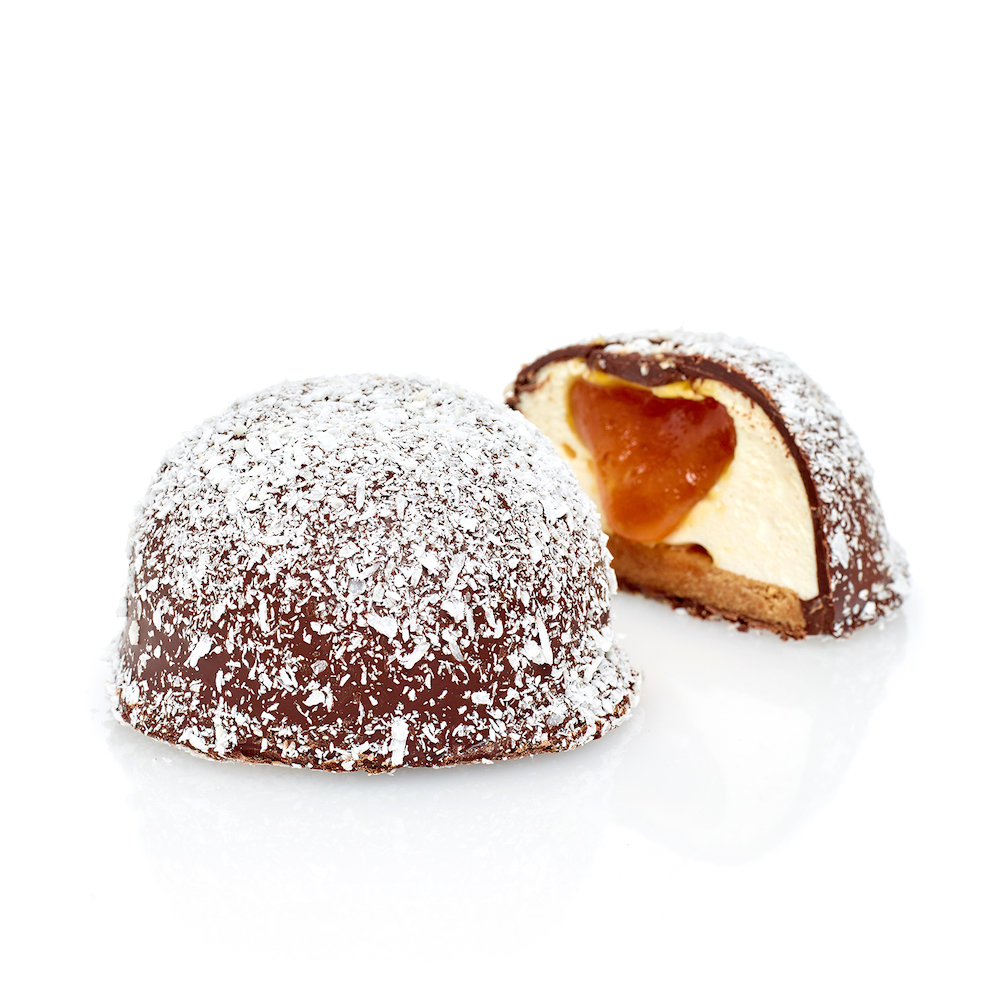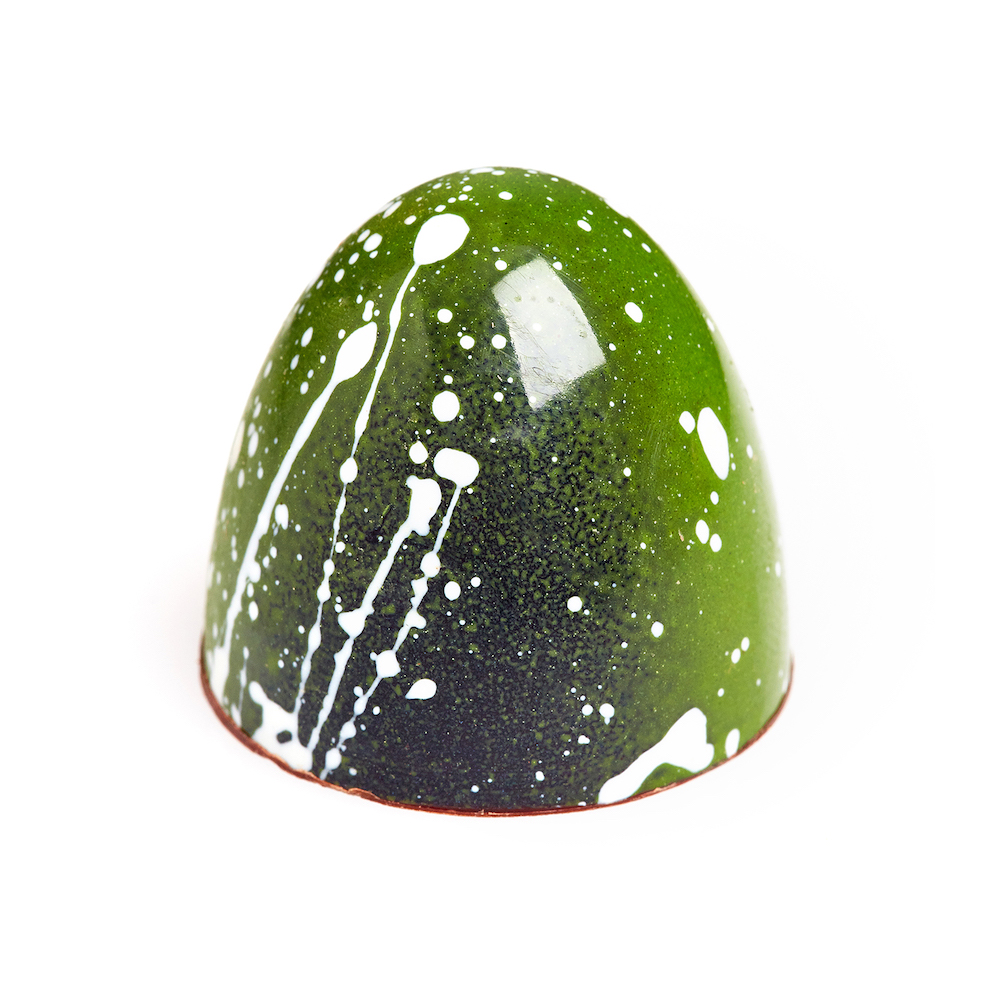 Lime and Basil (the zesty lime works great with the peppery sweetness of the basil. I got the idea for this chocolate from a chocolate shop in Paris, I liked it so much I come back and worked out my own recipe).
Cranachan (what's not to like? Toasty oats, raspberry and whisky! Cranachan is a Scottish dessert made from toasted oats, honey and fresh raspberries, mixed together with whisky cream).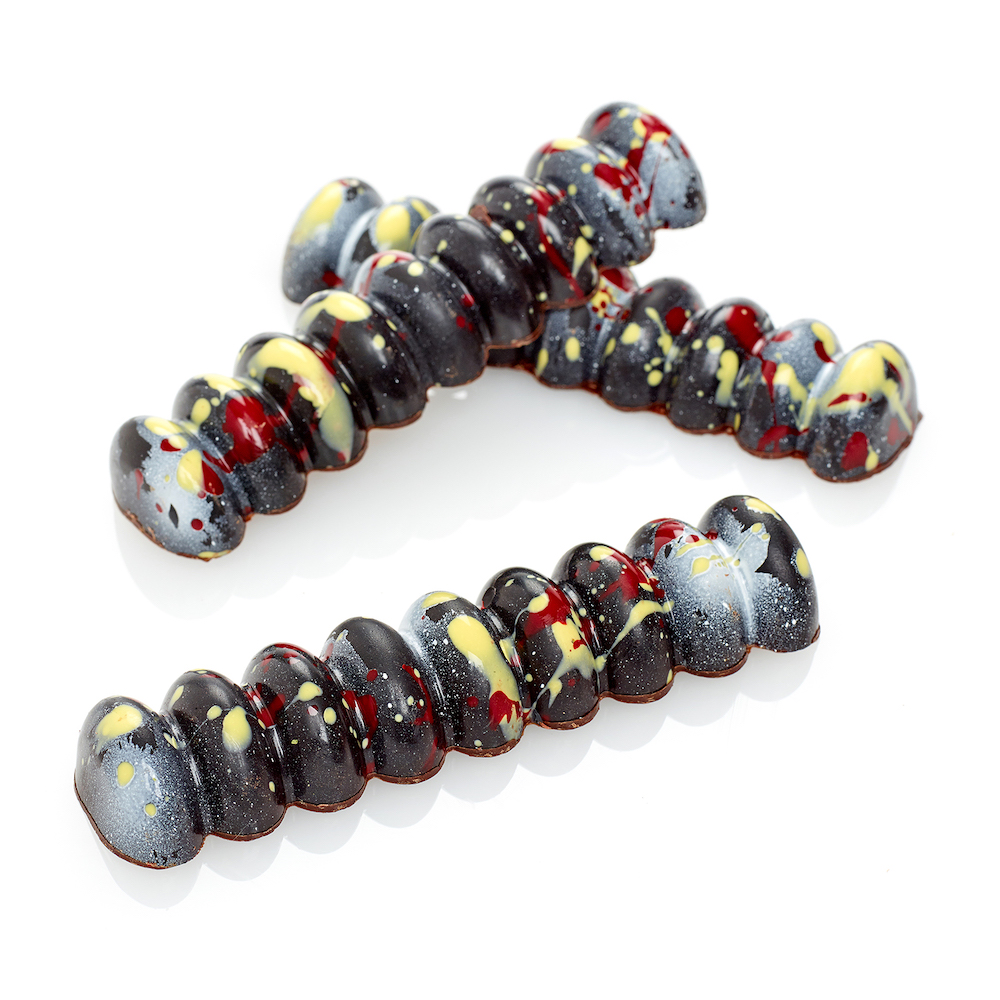 Snack bar – Just One More (peanuts, raisins, puffed rice, mixed together with caramel then topped with more caramel, peanuts, and raisins. Originally they were slightly smaller and one day, I was eating one, trying to think of a name when I thought "I could eat another one!" So, I called it Just One More. Now its bigger though and one is probably enough for one day)!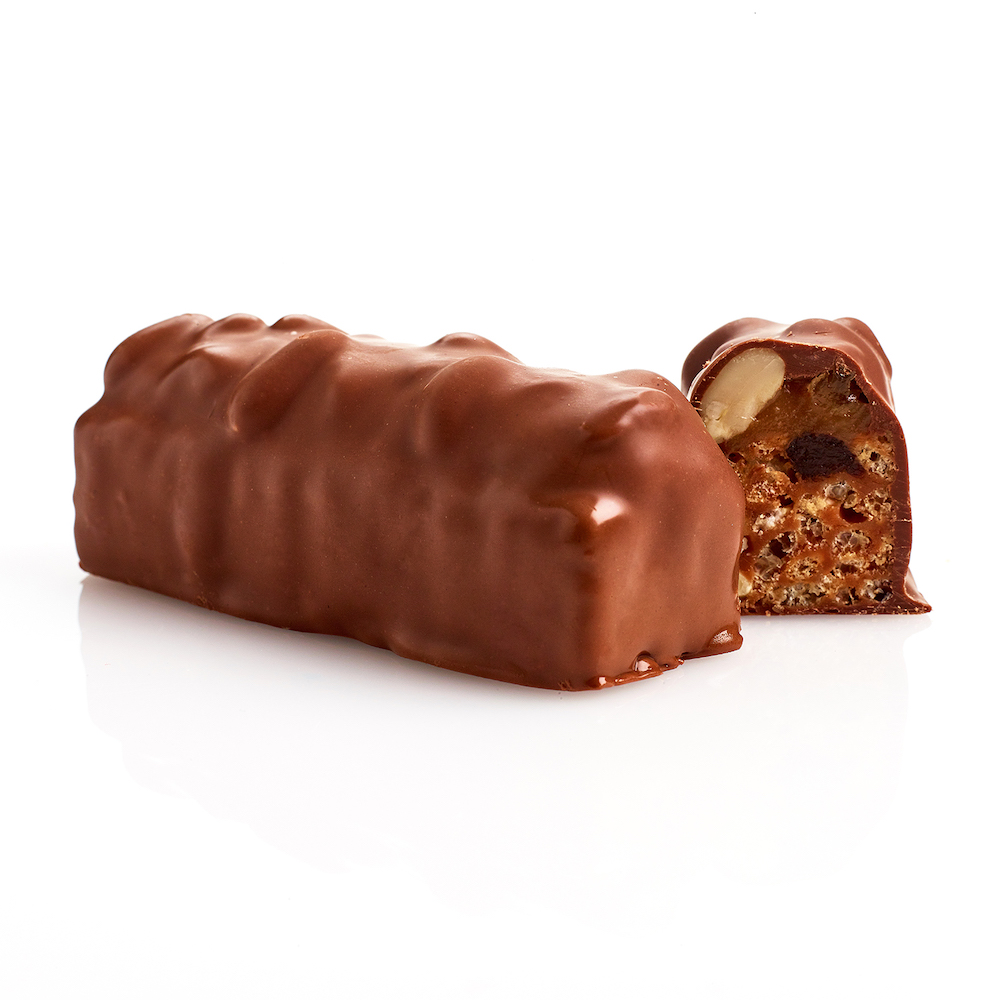 Mango and Passionfruit (it's the sharp, sweet thing again! I just really like sharp things with chocolate or a sweet ingredient).
Very difficult choice! I don't make things I don't like. S'more – marshmallow with chocolate and lots of textures going on. Kalamansi – a great hit of citrus against and the sweetness of the milk chocolate. Vanilla – there is something so delicious about a simple Vanilla Macaron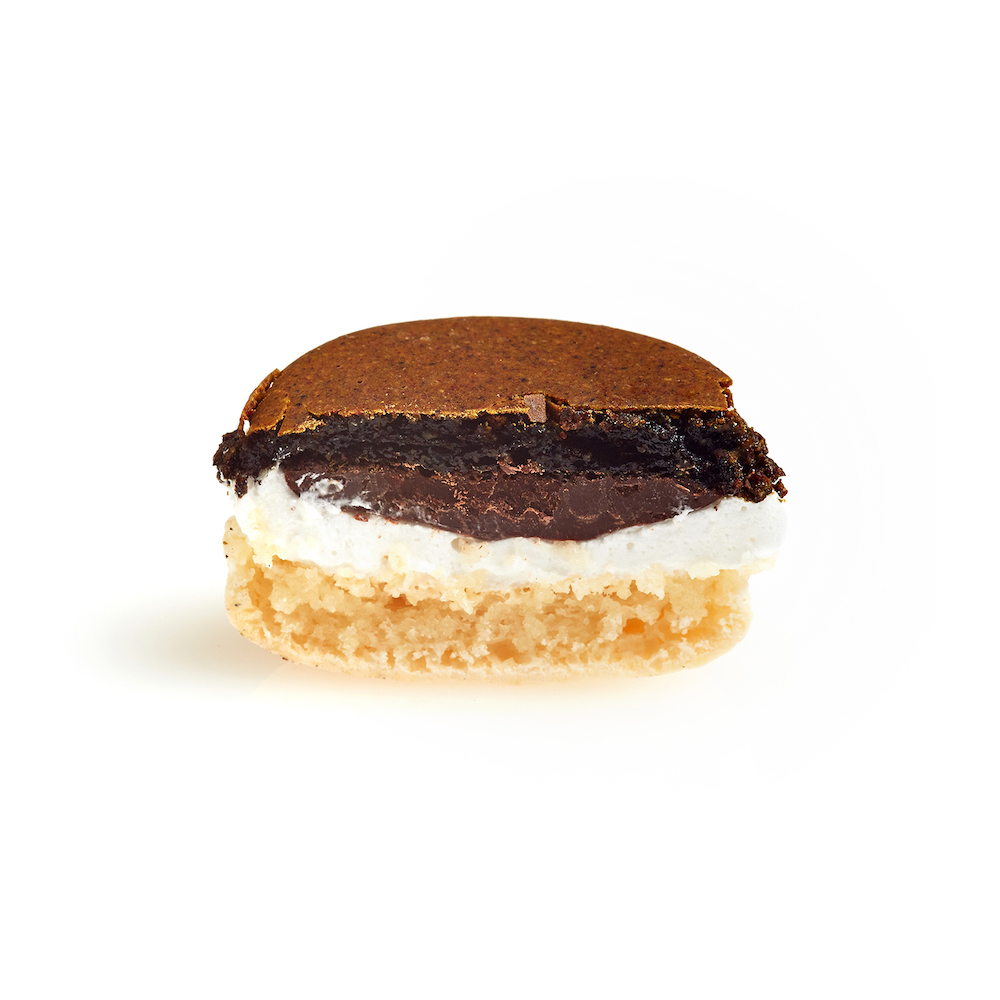 Let us know what you think...
We hope you love our chocolates as much as we do! If you would like to leave us some valuable feedback, please leave a review on the products you purchased or head over to the contact page.
Bon Appétit!